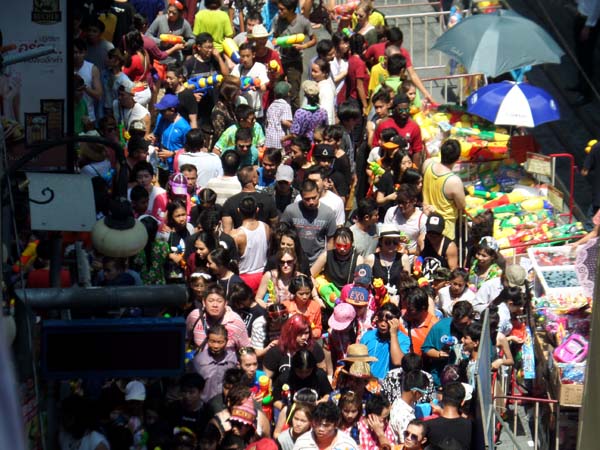 The Thai New Year holiday or Songkran 2017 runs from April 13 to 15. Are you ready for your trip to Bangkok?
Warning: This post may contain information that will spoil the element of surprise especially when you prefer to personally discover what it feels like to visit Bangkok, Thailand, during this annual Songkran festival.
When I booked a holiday to Thailand's capital city for the first time in 2016, it was generally because I wanted to experience the water festival during the Thai New Year. It was a wonderful experience, but what made it even greater is that I get to experience the city more than what Songkran has to offer.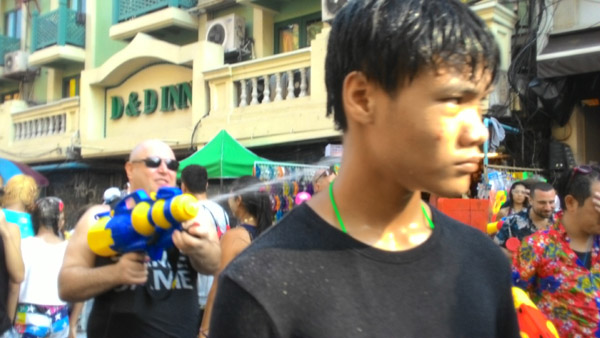 Yes, contrary to popular thinking, this annual festival in Thailand is more than the water fights.
As a quick note, plan other activities for your Bangkok trip aside from just enjoying the water fights, which are generally the first activities that pop in the minds of tourists when Songkran is mentioned.
Here are 9 tips when visiting Bangkok for Songkran:
1 | It's a long holiday for the country.
Just as most people enjoy non-working holidays during the worldwide Christmas and New Year, Thai people also get to enjoy long holidays during their own New Year.
When is Songkran? As mentioned, the Songkran 2017 dates start from April 13 to 15 , which (in most cases) are days filled with water fights and festivities. The holiday becomes even longer when the weekends (Saturdays and Sundays) fall right after or before this Thai New Year.
So what does this long holiday mean to a traveller like you? For one, almost all businesses and government offices in the city are closed. So when you're coming to Bangkok with a plan to buy some jewellery from a small shop or collect some stamps from the city's central post office (like what I planned before), you might not be able to do so because the establishments are (most probably) closed.
Also, like any other long holiday, your Bangkok-based friends may be going to their hometowns to celebrate the new year with their family. So just in case you're expecting them to tour you around Bangkok, you might want to ask them of their plans ahead of time.
2 | The biggest water parties can only be found along two areas.
Whenever I'm asked "what is Songkran" in the past, I automatically thought of water fights every where! On the roads. On the beaches. In villages. Everyone gets wet.
But when I visited Bangkok for the water festival 2016, it was an eye opener — and a pleasant one, at least, for me.
Ah, media sucks. The movie Lost in Thailand also had a great influence on my expectation of the country.
For the record, I heard water fights are everywhere when you're in Chiang Mai or in Pattaya. But in Bangkok (and considering this city is huge), the major parties complete with sounds, dances and cheerful crowd of tourists and young Thais are only limited to two areas:
the entire length of Khao San road (a walk away from the Grand Palace) also known as a tourist district; and

One of the two entry points into Khao San Road Songkran party (2016)

Silom, where the wildest water party is most probably held. It's right below the Siam BTS station.

Silom crowd during Songkran 2016
On another note, if you want to experience the solemn side of Songkran Festival 2017 in Bangkok, consider visiting these places: Phra Pradaeng District, Sanam Luang and Wisutkasat. Read more information about these at this Songkran info page on Bangkok.com.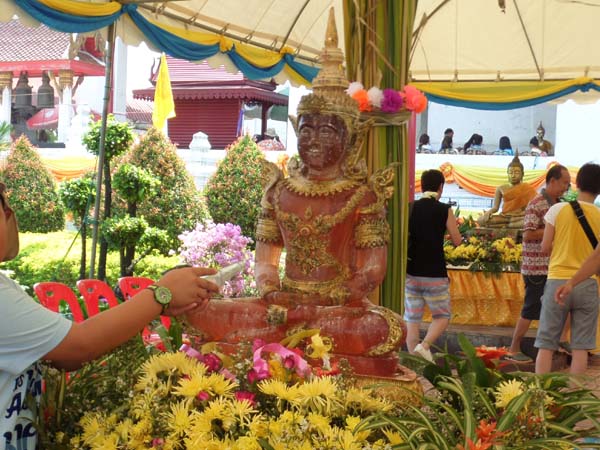 3 | You can stay dry at the Siam party.
There's really a lot of people on Khao San road and Silom during the water festival and you'll mostly be able to barely move around. But if you want to see what these water parties look like and get a feel of the festive vibe but you don't want to get wet, you can go to the Silom area via BTS and stay in the Siam station and/or overpass. You can watch the crowd from above and enjoy the festivities.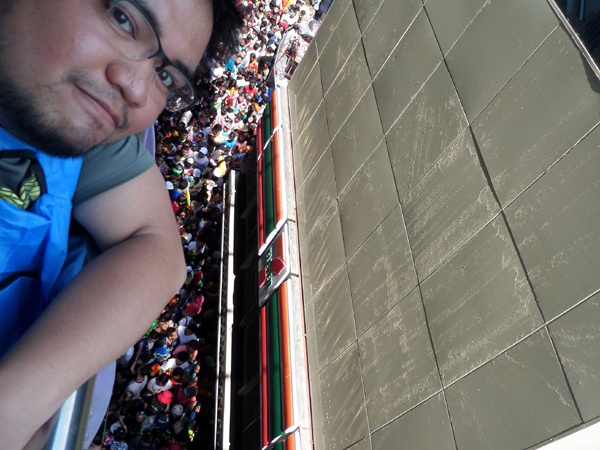 Water fights are disallowed in all BTS stations and one even has to unload the water from his/her guns before stepping unto any of the train stations. If you're staying on the Siam BTS station, keep in mind that you only have 1 hour before you get locked out in all train stations. So make sure you are out of the BTS in less than an hour after you swiped in. In short, you only have 1 hour if you're thinking of train hopping in the BTS. So make sure you take the exit gates from time to time.
4 | Most of the roads are clear but there will be a few merrymakers too.
Because it will be a long holiday and businesses are closed, most of the roads in Bangkok will feel abandoned but not as abandoned as a ghost town. There will still be a few tourists with water guns who are having small parties outside their hotels and waiting for passers-by. Especially on minor roads, you also get to see a family or two with barrels, pails and buckets of water by their house (or little shops) waiting for people who don't mind getting "blessed". Sometimes, some naughty kids will ride a bus and squirt water from their water guns to people on the sidewalk.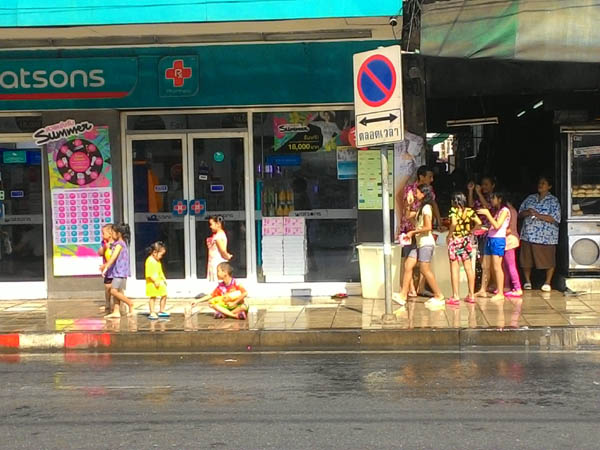 5 | Always be prepared to welcome the splashes.
Don't worry! As long as you're not in the party areas, Thais are considerate not to splash you if you make a gesture that you don't want to be wet. I also happen to pass by a residential area, and these little children with waterguns spoke to me and seemed to ask a question (because of their tone). I think they asked me if they can sprinkle me with water.
Personally, I prefer to get wet during this period. Getting wet is considered to be a blessing. For the Thais, the splashes symbolize the washing off of last year's misfortune to welcome the new year with a fresh start.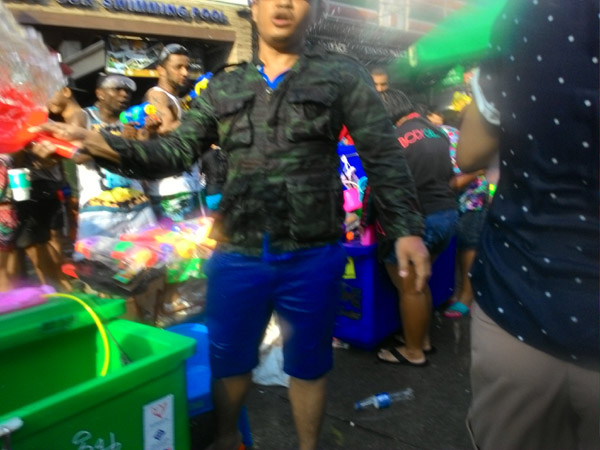 So whether you intended to get wet or not beginning the dawn of April 13, consider preparing for any splashes.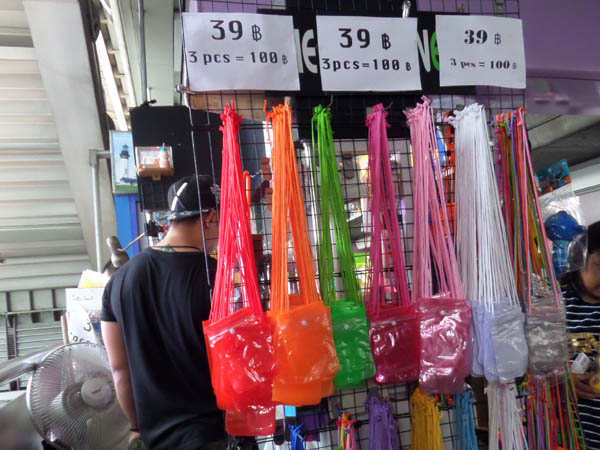 It's common to have waterproof bags or use protective sheets over your bags to ensure that your contents won't get wet.
Moreover, secure your gadgets to prevent water from damaging them. There are many sidewalk shops and department stores selling those waterproof bags with necklace where you can keep your phone and money dry.
Also consider wearing quick-dry clothes or have some extra ones in your bag.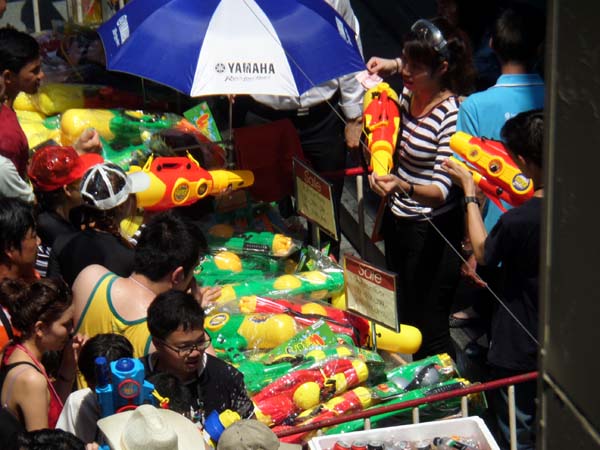 5 | Be on top of Songkran-related news prior to your trip.
Especially when you're coming to Bangkok for Songkran water festival parties, stay updated with related news. Before I went there in 2016, I read the news and found out that the parties (in Bangkok) were shortened to 2 days instead of 3 days. The party hours were also cut from overnight to only until 9 PM. It made sense because that year, Thailand (especially Bangkok) recorded one of the highest temperature, which means that water supply has reduced, and thus, the water festivities have to be limited.
For Songkran 2017, you should still read news regarding Bangkok and the festivities considering that the Thais are still mourning for their beloved king who died last year. The Thais from all over the country love their king so much. We should respect that.
I heard fireworks were banned for now. A friend of mine also told me that there weren't no fireworks in the popular Asiatique riverside during the worldwide New Year.
6 | The temples will most probably be crowded.
It may not be a good time to visit the temples during this holiday as a tourist because Thais flock to their temples to make merit to Buddha. But it will still be a good experience to watch and observe the Thai tradition. Realize though that ceremonies will be held also related to the Thai New Year.
7 | Consider a stay in Bangkok before and/or after the long holiday.
For some reason, I was able to have the money to stay for around 7 – 8 days in Bangkok. I wanted to experience what it feels like to be in the city before and after the festivals. The truth is, I only got to enjoy the major parties in one afternoon, because I explored other places during this holiday period.
It would also be wise to book a tour (at least a join-in tour) before or after the Thai holiday period because I suspect that these travel agencies will be closing during the holiday. Consider booking a tour outside the city proper, such as the King's Summer Palace or most interestingly, the UNESCO site at Ayuthaya.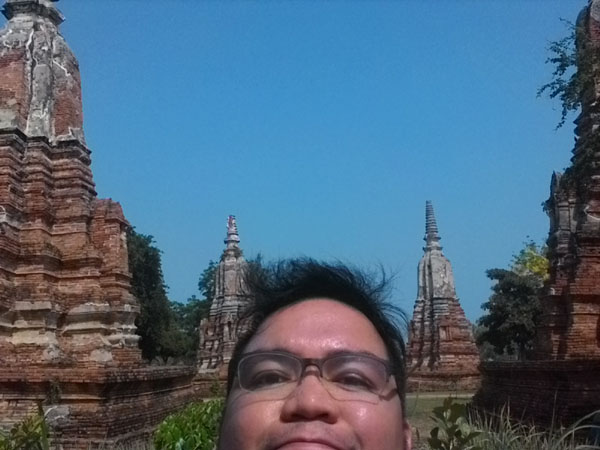 Within the city, you can check out the dinner river cruises and even book a ticket to watch cabaret shows, wholesome ladyboy shows (hahaha) or the stunning performances at Siam Namirit.
I also know some friends who come to Bangkok to enjoy the party for half a day then go to the nearest malls and theme parks to have more fun (while keeping dry).
8 | Surprise Thais by greeting them in their language.
The simplest phrase to remember is romanised as "Sawasdee Pee Mai!" or สวัสดีปีใหม่ (translation: Happy New Year)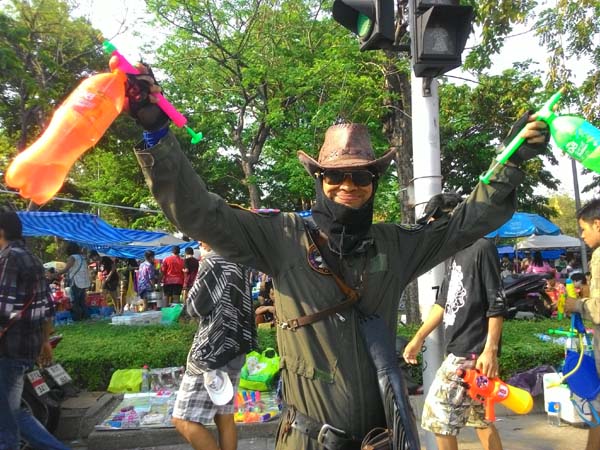 But personally, I don't trust romanisation because it's not an accurate pronunciation to the Thai language especially when you're a Westerner or have been exposed to English most of your life.
To my kind-of-malfunctioning ear, the phrase did sound like "sawadi bi mai" with the b sounding like a mix of P and B. It would help if you have a native Thai speaker saying the phrase for you.
You can check this Youtube video from studythai to learn how to say the phrase properly.
You can shout this phrase out while walking through the party areas, or when passing by a small family waiting for you to get wet. It's also a great phrase to say to a salesperson after he or she helped you out in choosing products in a department store or to a vendor after buying something from him/her. Or perhaps as a pick-up line to a Thai stranger you like? (grins)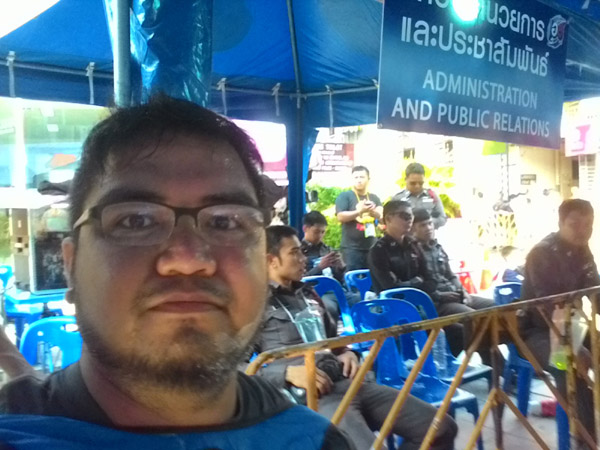 9 | Observe water festival rules and courtesy.
Unlike what you see in Lost in Thailand (lolz), Thais don't just throw water to anyone for no good reason. As a tourist, you should be aware of certain unwritten rules when it comes to splashing someone with water especially when you're not on Bangkok's major party areas.
Here are some of them.
DON'T throw iced or dirty water
DON'T throw water at motorists (especially on motorbikes) to avoid road accidents
DON'T throw water or douse the elderly, babies and most importantly, monks
DON'T do water fights in trains and train stations



---
So are you ready for your Bangkok trip? Let us know.
Or if you have experienced Songkran in Bangkok, share your story to us.
Enjoy and keep travelling!