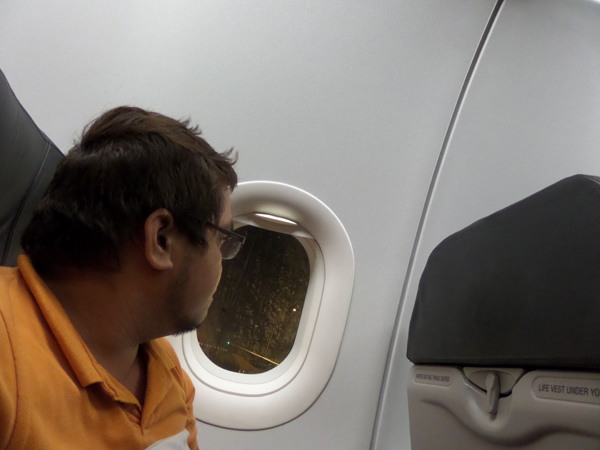 It took me more than six months (my gosh!) to finally write about my first ever trip outside the Philippines, and a solo one at that. It's just that I had a full-time job that eats a huge chunk of my time (and gives me a wad of income enough to sustain my needs and indulgence, so no complaints from me there.) :-p
Did I mention that my first out-of-the-country trip was a solo one? Some said that I was brave for doing it; I think I'm just crazy. I had always longed to travel, but I never had the chance. There were plans, but they were often botched. I was supposed to travel in March, but due to the wrath of Mother Nature, I got cut off from my supposed companion — someone, who I cannot trust anymore anyway.
By that time, I was already booked for Cambodia with some friends for the last quarter this year (my recent travel stint). But I guess I couldn't wait that long to have my first ever out-of-the-country trip. For some reason, I had a sudden wanderlust. It could be that the travel dreams which I have long buried into the abyss of my psychosis were resurfacing. Or it could just be my frustration on the denied visa for South Korea. Whatever the reason for that sudden itch, I felt I must satisfy it — even if it means travelling solo. In fact, I had so many reasons to travel solo, but they would be another story.
A Moment of Pride for Solo Travel
June 12, 2014, I arrived in Vietnam through Saigon's Tan Son Nhat International Airport. It was the same date as the Philippine's celebration of Independence Day. And for me, I see this moment as a freedom from my own mental bondage of low self-esteem and from the fear of growing old not discovering the world by myself. Choz!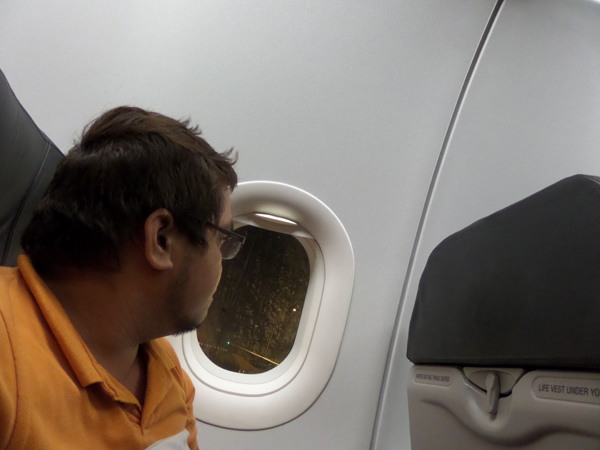 And no, I didn't kiss the land when I got there. Actually, I forgot (I wouldn't kiss it anyway even if I remembered). I was so filled with joy that I am finally in another country for the first time… well, technically, this is the second country that I had been — the first one being Singapore since I was a transit there. But I was only in the airside, so I wouldn't really count that as the first country that I visited.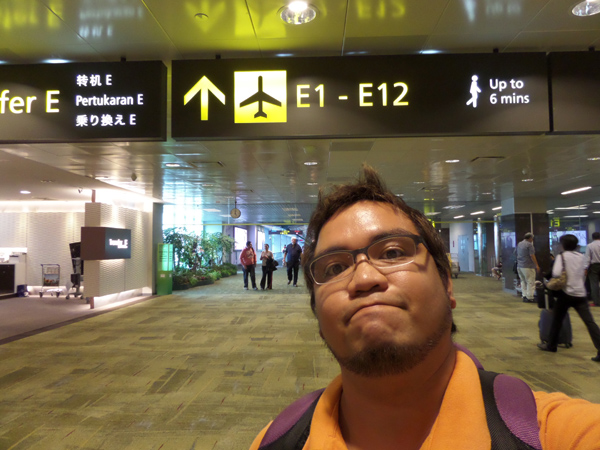 I had a mix of emotions as I was in the airport of Saigon, now known as Ho Chi Minh.
There was pride… because I finally made my out-of-the-country trip and a solo one.
There was joy… because I knew this would be a brand new experience for me.
There was worry… because I am alone in a country where majority of people don't speak the languages I know well… and my introversion could get in my way.
There was fear… oh wait, there was no fear! Because I know I'm just basically in a city which I could pretend would be the same city where I grew up. Aaah, so brave of me. [Yet autistic.] (o.0)
Manoeuvring My Way through Vietnam's Largest Airport
Being my introverted self, I never had the chance to have a new friend on the plane. I did hope I made one, but I guess I could never start or maintain a conversation. So the whole time during the trip, I was basically alone. I arrived past 8pm and I was expecting the place to be crowded, but it wasn't. I guess we're the only passengers in the area.
I followed my fellow passengers through the airport so that I won't get lost. The walk was long, but somehow, I managed to find my way. For several months, I had been memorising the Arrivals map of this airport and even read Saigon airport tips a couple of times. And as a backup plan, I have my handy notebook where I pasted the printed map and instructions for me to refer to in case I get totally confused. Well, that's how obsessive-compulsive I was. What would you do anyway if you're an introvert, a first time traveller, and a solo holidaymaker in a different country? (o.0)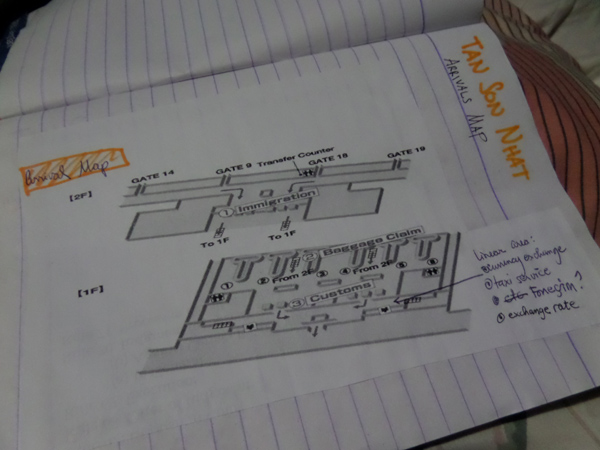 Luckily, I found my way to the Immigration Check — well, after some doubts on my memory.
Immigration stories back in my country scares me. And being a naïve traveller faced by an immigration officer of another country, I didn't know what to expect. I didn't know how to react. I didn't know what to say. Should I smile? Should I say hello? Should I…
I just fell silent the moment I gave my passport to the officer. He didn't ask for anything from me or talked to me. I was just standing by the counter, awkwardly. I cannot speak a word because aside from the fact that I typically get metaphorically and amorously paralysed when faced with Vietnamese eyes [insert *heart* icons here], I actually don't know what the officer was doing because he didn't ask me anything. And I don't know what to expect when passing through immigration checks. He was looking around, perhaps while waiting for some immigration data to load. I was getting paranoid. What if he suddenly asked me in Vietnamese? I'm sure I'll panic at least for a second or two. (o.0)
Finally, after a few minutes of awkwardness for what I think was eternity, he gave me my passport with the Vietnam stamp. I thanked the officer (I attempted to say it in Vietnamese, but I tongue just automatically said the English version) then I proceeded to the next area. Three more things to go before I finally leave the airport and be in Ho Chi Minh!
That Scary Moment When You Were So Prepared of What's Coming Next but Realised that You're in a Different Situation
No, that wasn't fear. It was worry. [Deny to death!] (o.0)
I needed to do three things before leaving the airport for the city:
1. Exchange a portion of my USD to VND in an amount enough to pay for taxi to my hotel and for dinner;
2. Buy a sim card for my phone; and
3. Book a taxi through Mai Linh or Vina Sun.
But I guess I had to learn the hard way that no matter how much you're planning the details for this transition, you need to prepare for some backup plans. I wasn't prepared! And I have so many oh-no moments. (o.0)
After going down the long stairs from the Immigration Check and past the Customs Check, I expected to arrive in a long hall where you can find shops, taxi stands and foreign currency exchange. I did arrive in such area, but there were some surprises which I haven't read in the airport guides, reviews and tips.
I read that there were lots of people in the area.
I imagined a crowded, noisy area (well not really that noisy) wherein representatives from various car hire or taxi companies try to persuade you to book through them. I imagine lots of shouting. That was how the reviews and stories online described the area. But when I arrived there, it was kind of deserted and there were only 3 or four shops open. Which means that when I try to find those certain stalls I need to approach, I'm an easy target for these "persuaders".
I was told that the foreign currency exchangers offering the best rates are at the end of the hall.
So I went all the way to the end, only to discover that the shops were closed. So I have to settle for the nearest shop that was open. I still couldn't decide which shop to approach because there were no publicly displayed boards showcasing their exchange rates. It would be a shame for me to hop from one shop to another, comparing rates, considering that I'm the only person who seem to be moving back and forth in the hall. In short, I looked like the only person who doesn't know where to go, which makes me an easy target for those who want to take advantage of my "alone-ness". Luckily, the first shop I approached gave me an exchange rate that's somewhat much higher than my expected rate. So the stars are with me that night.
I was told to book Mai Linh or Vina Sun taxis only.
When you're researching for Saigon transportation, you will encounter lots of stories on taxi scams — forced tips, money swapping, airport parking fees, etc. I read that I should opt for the reputable ones which are Mai Linh and Vina Sun. The hotel representative who I talked with before also informed me of these taxi companies. UNFORTUNATELY, their stalls in the airport is closed! And my world shattered. Would I be in for the first scam of my life in Vietnam? (how exag! :-p)
The shop where I bought my Vietnamese sim card also offered taxi ride to my hotel by buying a voucher for 200,000 VND. The rate was somehow lower than my budget, so I could grab it. But there were some things I need to verify.
The taxi company? It was Song Viet. I was worried because it was not Mai Linh nor any other company name I read in guides.
No additional fees? I have to verify this. Well, actually, when they offer vouchers, they will tell you immediately that the voucher will cover the entire trip to the hotel, no additional fees e.g. airport parking fees.
So I grabbed the deal, but still worried about what could happen later on.
Well, I'm just happy that I had this ride though because the driver was cute. :-p
He spoke English a little but we were able to converse a bit, thanks to his language translator app on his smartphone (I think it was Google Translate) which somehow translate Vietnamese into English very awkwardly. And it was the first time I was making conversations during a taxi ride. Haha. His voice sounded sweet and I like the way he say my name. Ooops, I think I should stop talking now.
Until now, I don't know if what he said was that his name was "Hai" or if he was just saying "hi". He said that after he asked my name, for which I answered and said "you?"
(o.0) He had a girlfriend though. He talked to her over the phone. T_T …in my presence. waaah *sob*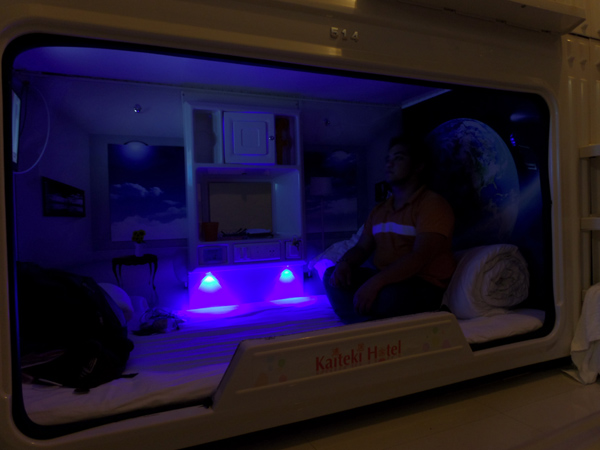 Solo Travelling Lessons Learned
No matter how much you planned your solo travel well by researching in detail, you must leave room for changes. As they say, if Plan A doesn't work, there are many other letters in the alphabet. How about choosing Kanji since it has around 50,000 characters? Hehe!
Always be ready with surprises. Things may not go the way you want them. In a worse case scenario, trust your instincts.
It's often a good idea to travel once in a while around your local area. At least when you're travelling solo in another country, especially where English isn't a common language, you already have a sense of familiarity regarding how to deal with scenarios often encountered by tourists and holidaymakers.