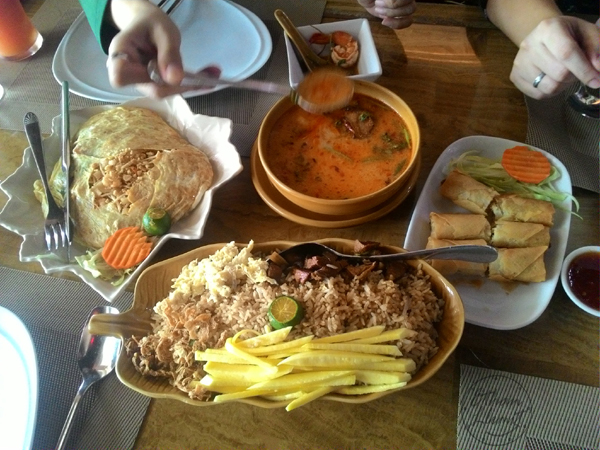 If you're curious of the exotic taste of Thai cuisine or if you're craving for the distinct Thai dishes, Royal Krua Thai is one of the places to go when you're in Cebu. You don't have to fly to Thailand, as the restaurant offers some of the authentic dishes that the country has to offer. There are several branches throughout Cebu, and my longing for Bangkok had taken me and two of my friends to the restaurant's branch in the G/F North Arcade, Banilad Town Center, Gov. M. Cuenco Ave.





Royal Krua Thai in BTC is easily accessed by anyone since the commercial complex is just along the highway. You can take a taxi or Grab car to get dropped right in front of the restaurant, which will welcome you with a façade of Apsara dancer statues and Thai carvings on wood panels, among other hints that you're definitely in the right place. If you're being thrifty, there are jeepneys plying along the highway Gov. M. Cuenco Ave. A basic fare will only cost you PHP7.00 (as of the time of writing).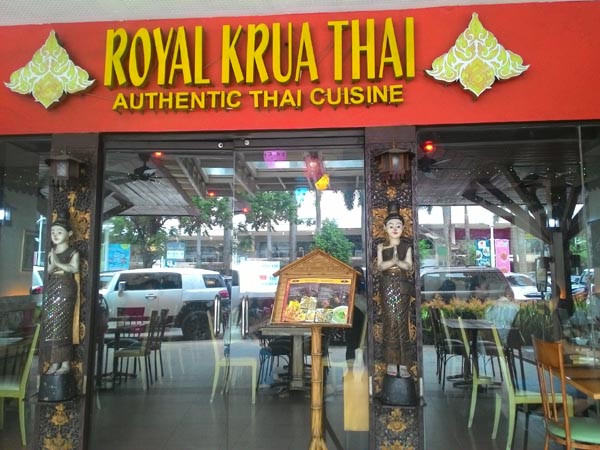 The restaurant interior is aptly decorated that will give any diners a Thai atmosphere, thanks to the arts depicting Apsara dancers, colourful lighting and intricate wood carvings, among other interior decors. However, they somehow embraced the cliché that Thai atmosphere depicts a spa experience due to the use of zen-like versions of popular songs as background music. While I somehow understand the reason behind such concept, I could have preferred the more tinkling or percussion sound that are distinct of Thai music. And yeah, romantic songs in Thai language may be an idea. Or perhaps I'm just obsessed with the Thai songs in CD I bought in a 7-11 branch in Bangkok.


This Thai restaurant in Cebu offers a wide range of distinct Thai dishes. But since we can't afford to order them all (chuckle), we carefully chose those that we were craving for. So which dishes satisfied our craving for Thai foods? (PS: Prices subject to change without prior notice)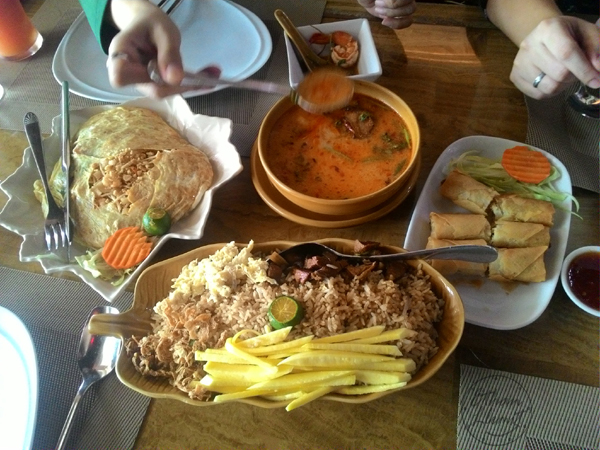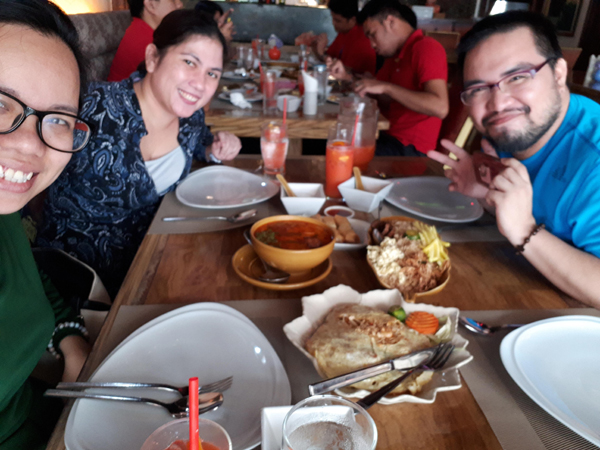 Bagoong Fried Rice
PHP255 (platter); PHP135 (single)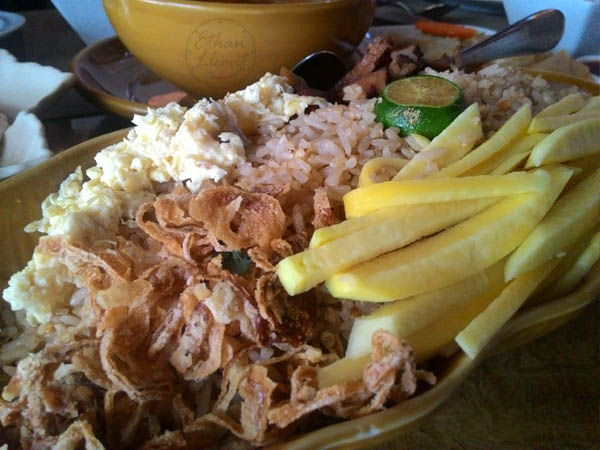 When it comes to Thai food, perhaps the first thing that comes to a Filipino's mind is the bagoong fried rice. In Thailand, it's called
Khao Kluk Kapi
(
ข้าวคลุกกะปิ
) , literally: fried rice with shrimp paste. Because bagoong (shrimp paste in Filipino) is one of the main ingredients, this dish will need an acquired taste for people to like it. I have no problem with bagoong rice especially when it comes with side dishes of meat and most importantly, green mango! Yummy.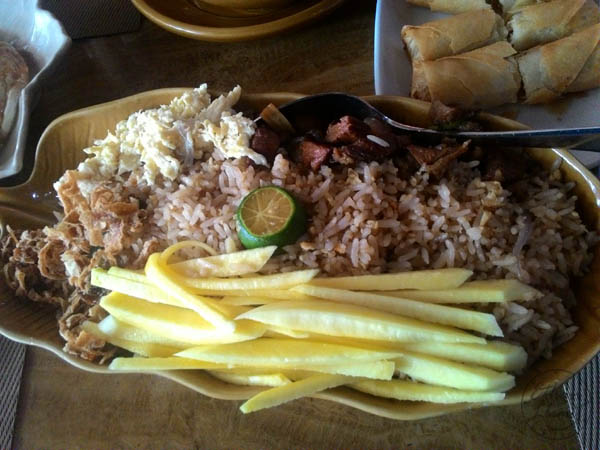 Pad Thai
PHP290 (regular); PHP??? (w/ egg)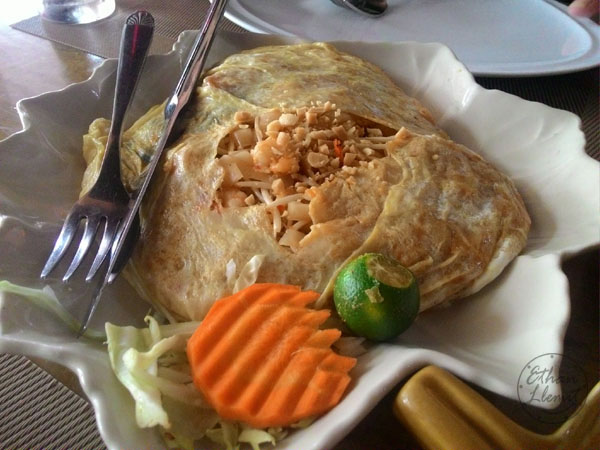 PS: I used the Romanised Thai name of the dish since the English name on the menu is too long:
Thai Noodles in Tamarind Sauce with Prawn
.
Who would go to a Thai restaurant and not order the popular Thai street and restaurant food, Pad Thai (ผัดไทย)? Technically, it's a fragrant stir-fried rice noodle dish with a lot of herbs and garnishes. I love this dish, and I actually have a craving for authentic Pad Thai some years ago. Royal Krua's version has this sweet-sour taste that I love in a good Pad Thai.

Spicy Prawn Soup
PHP???(regular); PHP??? (large)
Its complete Thai name is Tom Yum Goong (ต้มยำกุ้ง). The name is derived from "tom yum," which is boiled Thai sour and spicy soup with fragrant spices and herbs; and "goong," which is prawn or river shrimp. "Goong" is a popular base for tom yum dishes.
When I was in Singapore, I had a nasty experience with tom yum dishes, that's why I was a bit cautious this time and we ordered the regular size. But to my delight, Royal Krua's tom yum goong is surprisingly an aromatic soup with its tangy flavour. It was so yummy!

Vegetable Spring Rolls
PHP140(3 pcs); PHP160 (5 pcs)
I seem to have no memory of this dish. Lolz. I was expecting a mashed combination of potato or mung beans or anything plant-based because I was thinking it was like the Vietnamese vegetable spring rolls I had many years ago in a Saigon restaurant. If my memory served me right, I think I saw (to my disappointment) lots of vermicelli noodles inside the wrapper — which also reminds me of the regular Vietnamese spring rolls I learned to make in my college days. But anyways, vegetable spring rolls in Thailand are called
Porpia Thod Phak
(
ปอเปี๊ยะทอดผัก
), which literally means spring rolls with fried vegetables. I guess I'll have to order this one again when I go back to Royal Krua.
— o O o —
So which dishes have you tried and which one you will want to order? Tell us in the comment below.
---
For your domain and website needs (affiliate link)
Restaurant Details:
Royal Krua Thai
Ground Floor, Banilad Town Center,
Gov. M. Cuenco Avenue, Banilad,
Cebu City, Cebu
6000 Philippines
(6332) 346-3588
Hours: Daily 10am – 10pm
---