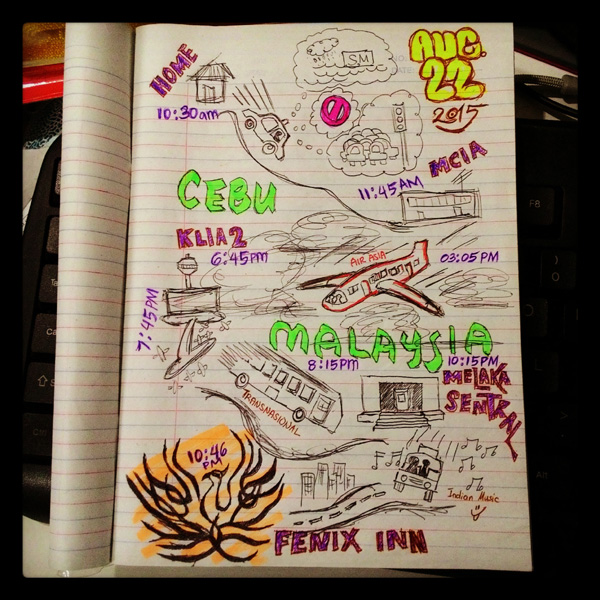 I actually don't know what's in Melaka, Malaysia, that prompted me to endure the series of stopovers just to get there. Maybe it's because it is a UNESCO heritage city and visiting it would be a milestone for a traveller. Actually, I was supposed to be there with a Malaysian friend (who unfortunately backed out a few days before the trip).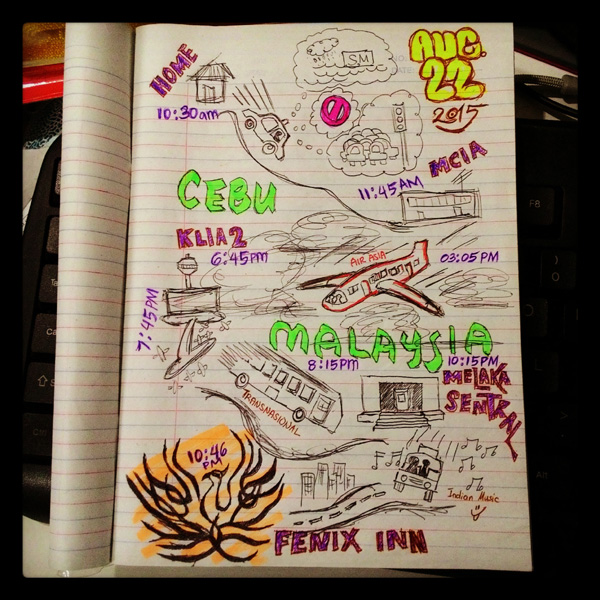 I don't know, really. To think, I even cringe on the thought of having to go through a bus terminal alone when travelling from Cebu City to the municipalities and cities in the North or the South.
Uncertainties on Cebu's Roads
The entire trip was supposed to start at 9:30 AM from home. Although my flight was still at 3 PM, I have to leave the house early because I was expecting heavy traffic between my home and the airport.
But it was a Saturday! Well, I have to be early because it's the start of the APEC meetings and Cebu is hosting the event, which means there could be traffic disruptions and road blocks.
Then there was my fear for the rain. Cebu has been experiencing rain the past days and the heavy ones that usually fall for 30 minutes to an hour would cause deep flooding between my home and the airport. It will be deep enough that taxis can't pass through.
But [no] thanks to my laziness, I ended up leaving the house at 10:30 AM. Good luck to me! At least I ate breakfast already at around 9:30 AM.
Luckily, there weren't APEC-related or flood-related incidents during my taxi ride. But there's the usual traffic especially before the popular bridge going to the Mactan Island where the airport was.
Hungry at the Airport
I arrived in the airport at around 11:30 AM or so, giving me enough time to rest a bit. I was supposed to find lunch, but restaurants and cafes in the airport offer expensive stuff. And there were lots of people, too. I hate scenarios like that.
At 12:15 PM, the check-in counters for my flight opened. They actually did it 3 hours before the flight, as expected. So I went through the check-in process so that I won't have to worry about anything. The entire procedure gives me anxieties, so I must go through it early to kill it — even if it means waiting for a couple of hours or several minutes in the departure area.
The thing I hate about travelling via aeroplane is that the entire airport process generally eats up your time. First, you have to be in the airport three hours before your international flight or two hours before your domestic flight. Of course, I don't want any hassle, so I have to be one of the first guys going through the check in process.
I kill time at the departure area by eating some cheap snacks (something I brought from home) just to stave my hunger. I drink lots of water but not an hour before the boarding time. I also make sure I visited the toilet a lot of times to be sure that I won't be visiting the aeroplane's lavatory during flights.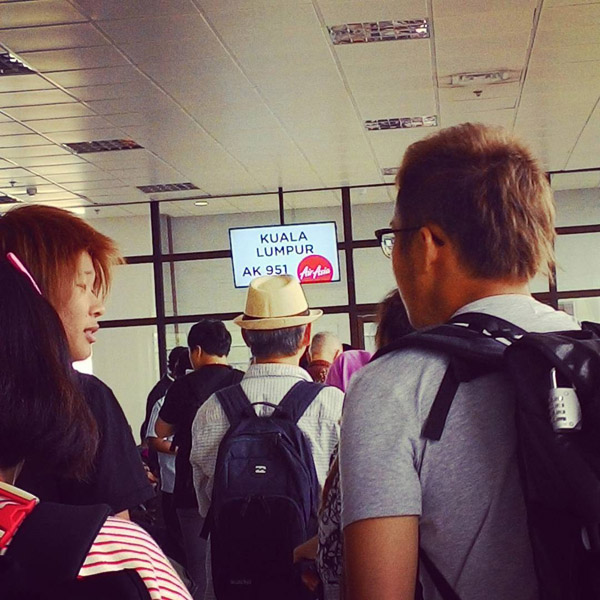 Limited Flight Options
As of the time of my booking (Dec 31, 2014) and I guess until now, AirAsia is the only airline offering direct flights from Cebu to Kuala Lumpur. With Cebu Pacific, you have to go though the Manila airport to reach Malaysia. I usually don't like passing through NAIA for some reasons.
There are no daily Cebu-KL flights with AirAsia. So, I really don't have a choice when I booked my advanced flight on New Year's Eve. My plane will arrive at almost 7 PM in KLIA2, which worries me because I still have to take a 2 or 3-hour [scheduled] bus trip to Melaka. That means I will arrive in my destination at around midnight — if I will be able to catch the last scheduled bus.
The AirAsia Cebu-KL flight takes around 3.5 to 4 hours, which can be a pain on the bottom. I did wish I ordered an inflight meal, considering that I haven't eaten any real lunch. So I just amuse myself by capturing interesting photos of clouds and listening to my music playlist.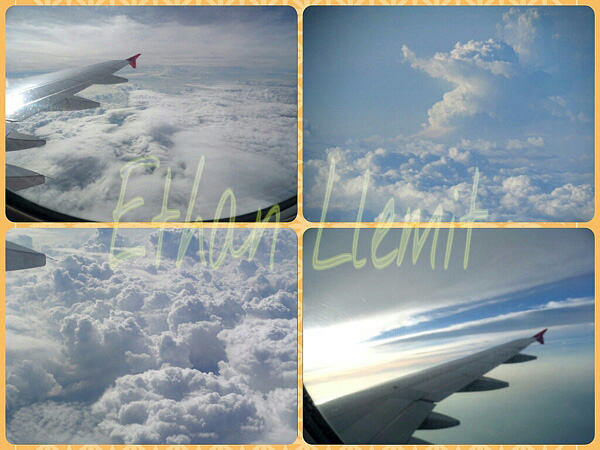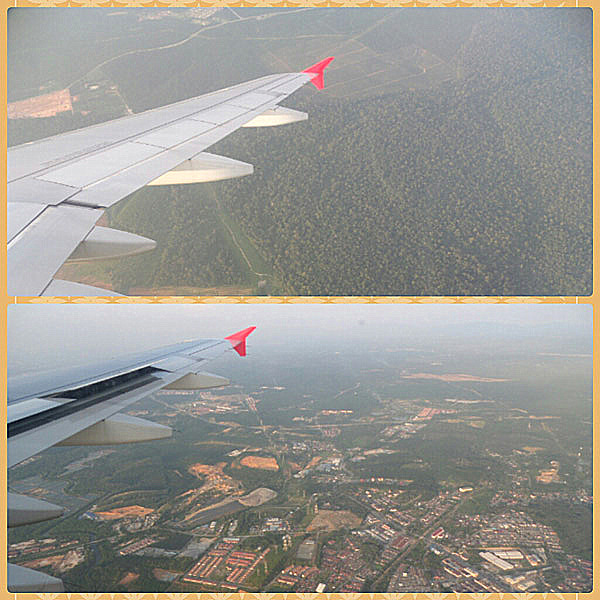 It was a long flight, really. And a very turbulent one.
There was typhoon somewhere but not on our path. You can see lots of cumulus clouds in the air. And it's an interesting sight when you got to see how your plane enters through a nimbus cloud up ahead.
It's like fantasy.
I'm sure I wasn't sleeping yet that time.
I don't have travel sickness, so I spent a lot of time watching the clouds. I'm just lucky I was situated on a window seat this time.
I believed our plane has been tilting towards the left. I was on the right and I can't seem to figure out the "slantiness" of the horizon.
I think I also heard the captain earlier before the flight saying that he will be tilting the plane due to turbulence in the skies ahead.
Selamat Datang (Welcome)
We landed in KLIA2 at around 6:55 PM. I'm so glad I could move my butt off the seat.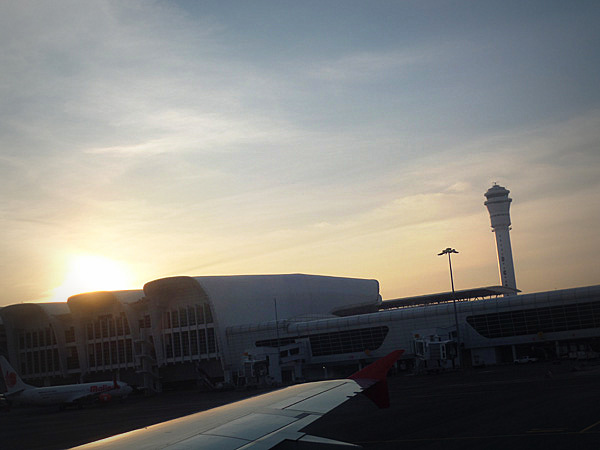 I guess it was too early to be thankful because I realised that KLIA2 is a huge airport. The AirAsia terminal was locate on the other end of the long skyway.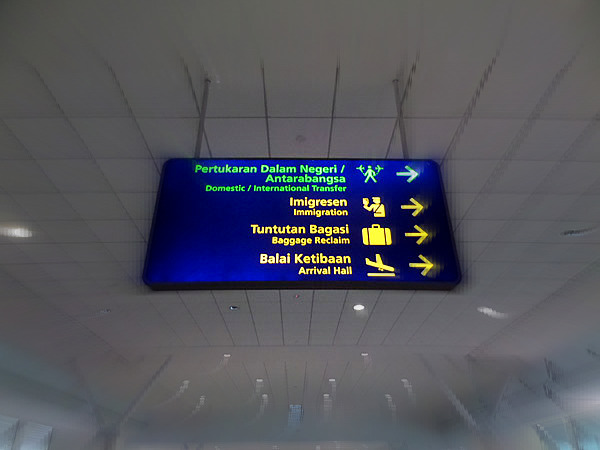 In fact, the walk from the plane to the airport's exit (including the quick immigration procedures and other whatnots) took me an hour or so. Crazy, huh?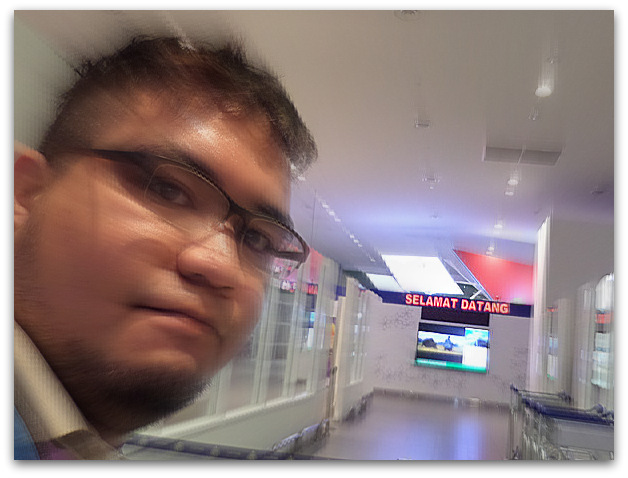 But it's because I did other important stuff along the way.
Although KLIA2 is also a shopping centre, I only stopped to do some important travel matters.
Acquired a Malaysia-based call, text and mobile internet sim.

I needed to be online for the entire trip, you know, for updating my whereabouts to my family back home. I need to check in to places (via social media) in real time so that they can trace where I am or was the last time should something happened.
When I got out of the main part of the airport, I reached into the so-called Gateway, which is the shopping centre part of the entire complex. I didn't know what telecommunications company to trust, but for some reason, I spotted Digi.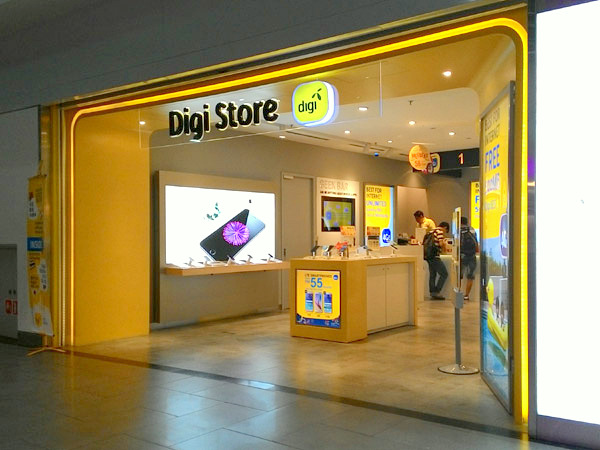 Good thing there are various shops in the area that's specifically owned by the telecommunications company themselves. Unlike in Saigon when I had to deal with a retailed to get a sim, which means I got it at a high price.
I spotted the Digi shop the moment I exited the main airport part. I believe I read somewhere that Digi has nationwide coverage in Malaysia. So I browsed through their displays in the hope that I will make sense of what sim to have. Luckily, a guy in the shop asked me what I need, so I just told him that I need a call and text sim card with fast mobile internet connection.
I didn't expect it to be that easy. He asked me how many days I would be staying, and I said 3.
He showed me an option (despite me being hard of hearing and despite his English speaking tone being not familiar to my ears) — a Digi sim costing 23 MYR with one-week worth of 1 Gig mobile internet. He did all the settings for me.
Thank, Heavens.
Check out more information on Digi mobile internet plans.
Then I have to go to my next important task.
Purchase a Transnasional bus ticket to Melaka.
My schedule was kind of rigid, at least that's what I thought. If there won't be interruptions in the airport such as mandatory cultural shows or a long immigration process, I might not be able to catch at least the last scheduled Transnasional bus for Melaka Sentral.
I was also worried that I need to buy my tickets at least one hour before the trip. I might not be able to make it.
Transnasional Bus Schedules (Saturday)
Schedule is subject to change. See updates at Transnasional website

Departure: KLIA2
Arrival: Melaka Sentral (TBZ)
| Early Morning | Morning | Afternoon | Evening | Night |
| --- | --- | --- | --- | --- |
| 01:15AM | 07:45AM | 01:15PM | 06:15PM | 09:15PM |
| | 09:15AM | 02:15PM | 08:15PM | |
| | 10:45AM | | | |
| | 11:45AM | | | |
PS: There's also a trip that will take you to the Makhota Medical Centre, which is closer to the city centre. But there's only one scheduled trip and it's way too much earlier for me
There are many bus companies to choose from, but Transnasional is the best option for trips from KLIA2 to Melaka and vice versa. You'll have a hassle-free and quick trip. For one, I read that there's lots of legroom in their buses. Also, it will only take 2 hours to reach Melaka if there's no heavy traffic.
Luckily, I was able to buy tickets without much hassle (but after a long walk across the entire length of the airport). It only cost me 24.10 MYR. And the great thing is, the bus is going to leave at 8:15 PM, which was around 30 minutes after I bought the ticket.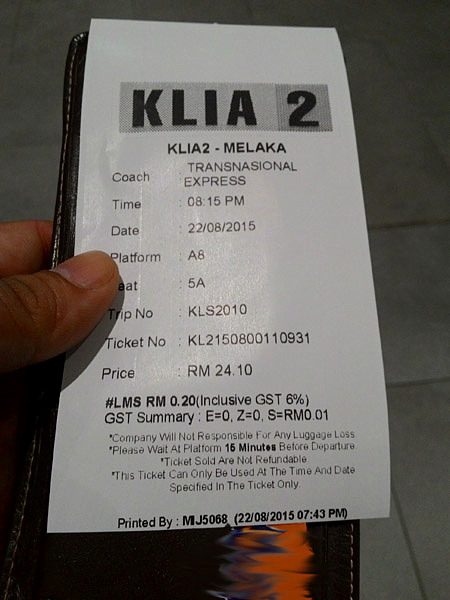 Lucky! I guess I will be arriving to Melaka earlier than expected.
Bus Trip: Alone But Not Quite Lonely
The Transnasional bus from KLIA2 to Melaka is an express trip. Unlike other buses going on the same route, the Transnasional bus doesn't stop in any tourist traps, souvenir shops or food establishments where the driver (or the bus company) will receive a commission.
People often tell you that it will take 3 hours for Transnasional trip from KLIA2 to Melaka. But I guess they just say it to overdeliver your expectation because without traffic, the trip will only take 2 hours.
The trip kind of surprised me though. There were only around less than 10 of us onboard and the bus was really huge. My Malaysian friend told me later on that the bus would go even if there's one passenger onboard. I'm glad I didn't experience that though because it would be really awkward.
It was a hassle-free trip! Few people on the bus and you have wide leg room. You also won't have to worry about sitting beside someone you might not like.
You might think it'll be lonely, but not really. I already had my Malaysian mobile sim activated and I was already able to talk to some friends who are in Malaysia. I also get to interact with people on my social media accounts. It can be a breather.
Selamat Datang ke Melaka!
The bus arrived in Melaka at around 10 PM, stopping at Melaka Sentral (also referred to as TBZ). Most of the shops in the bus terminal are already closed, and I guess the terminal itself is going to close too (though I don't know what's the nightly routine there). I just felt like the lights are going to be turned off in a few seconds.
I was still lost. I haven't researched about the bus terminal to be able to familiarise with it. I don't even know where it's located. All I did was make a quick check on Google map and, thanks to my Digi mobile sim, the app immediately showed me that I'm in TBZ. Great!
But then it wasn't detailed enough for me to know my whereabouts inside the closing terminal. It's a huge terminal and a lot of corners and walkways are dark already. I have to follow the two to five people I was with on the bus so that I know where to go. They rode a taxi.
I did know that there was a bus from TBZ that will pass by my hotel. Unfortunately, the last trip was at around 8 PM. I had no choice, I guess, but to take the more expensive option — taxi at 20 MYR.
At least it's 20 MYR! My research was still updated.
Taxi Ride and… Indian Music?
I don't know how long I have been in the taxi before I arrived in my hotel. At least the driver had a small telly inside his car for my entertainment. Actually, I don't think it was for my entertainment. It's some kind of a Bollywood music video.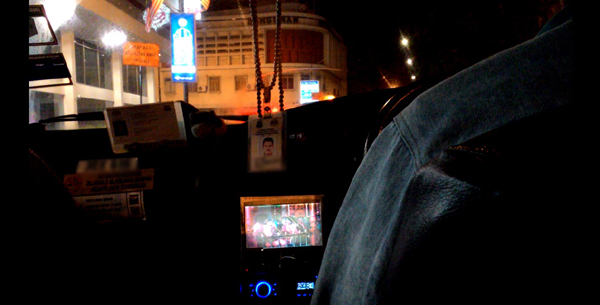 Come to think of it, my driver looked Indian. And when I realised that, I remembered seeing a lot of Indian-looking people since I was in KLIA2. It made me wonder (but I realised later on in the trip that India is one of Melaka's sources of exotic products since the beginning of time).
It seemed like I was in the taxi for a long time and I don't know why. Perhaps to make it look like a long travel from TBZ to my destination, worthy of the 20 MYR. But not really. I guess it's because Melaka is full of one-way roads especially on weekends when Jonker Walk prohibits vehicles from passing through.
Then there were traffic in some parts, too. But I can't seem to recall where it was. All I remember is that I did see some familiar places — Melaka landmarks that I may have read about while I was researching.
PS: A taxi driver told me that it's a 15-minute drive from the city centre to TBZ if there's no traffic.
Arriving at Hotel
Finally, I arrived at Fenix Inn where I was booked through Agoda. It was around 10:30 PM already and I haven't eaten yet. At last I could finally rest for a while on a good bed before I go out again to find food.
My mobile phone was also running out of juice so I have to charge it before I heed out and check out what the city is like at night.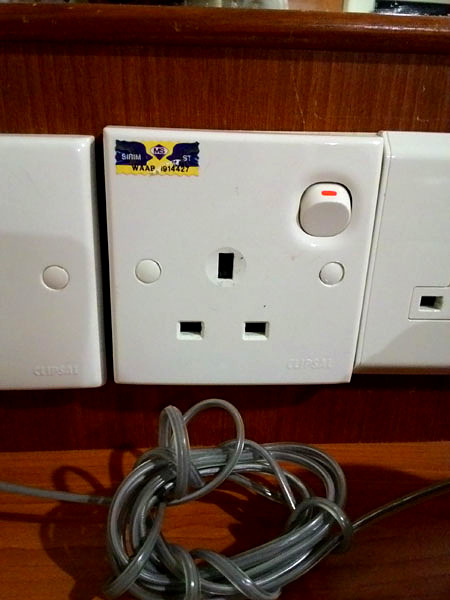 Caption: Oh dear! They have a different kind of power outlet. *panic*
I hope the hotel has some adapter for me to borrow.
[By the way, they didn't. Huhuhu]