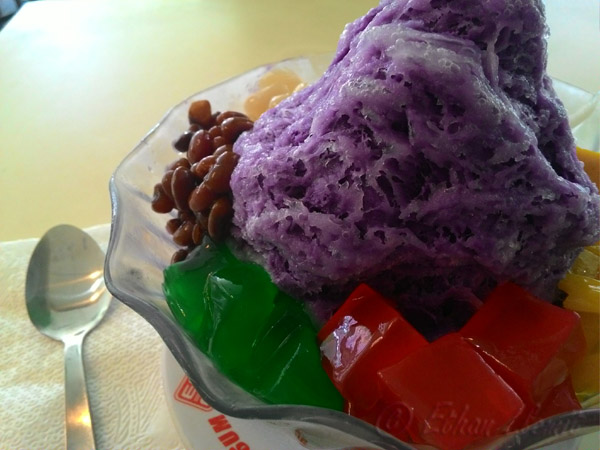 The summer heat is extreme this year, and there's just one way to beat it: Have some Halo-Halo!
But where do you go for a halo-halo treat? Here are some places to start and they're along Mango Avenue, Cebu.
Why am I starting in Mango, you might ask? Well, for one, it's near midtown Cebu… so it's probably the nearest spot between the downtown and the uptown areas. Ha! Lame excuse.
But what is halo-halo?



I was once talking to an Italian friend, and I mentioned that I want a halo-halo. And he ask, what's halo-halo? I realised it's not a worldwide famous dessert at all.
Halo-halo is basically a Filipino version of a shaved ice dessert topped with local ingredients such as jackfruit, nata de coco, corn and other whatnots, depending on what's available.
Halo-halo is often topped with a blue-coloured ice cream. Actually, it's just Ube ice cream. Now if you don't know what ube is, it's a kind of rootcrop that's generally blue in colour. I think yam is the closest translation, but I'm not sure.
Now on with our list!
Chowking's halo-halo
The halo-halo from Chowking has been one of my childhood favourite for the reason that it has been existing for a long time. (Wait, am I that old? Geez!)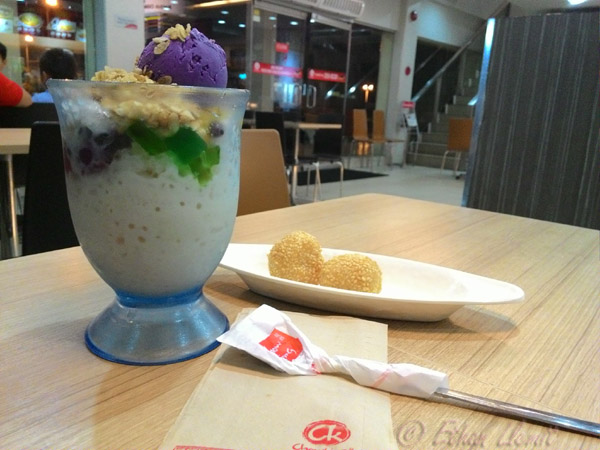 What I love about Chowking's halo-halo is the many varieties of ingredients that they put on it. Most specially, I love the way their "leche flan" (egg custard?) taste! It's heaven, at least for me.
The downside? For some reason, the shaved ice of Chowking's halo-halo is kind of rough. If you leave it untouched for some time, you'll be crunching on a big, bulk of iced because the particles have merged together. And even if the ice has melted, you can still get some crunchy texture when you sip on the melted ice.
Chowking Prices:
Regular: 73 PHP
Small: 53 PHP
Large: 100 PHP
Known ingredients: leche flan, beans, nata de coco, corn flakes
Ice Castle's halo-halo supreme
Ice Castle isn't along Mango Avenue, but it is located in Raintree Mall which has one of its entrances along the street.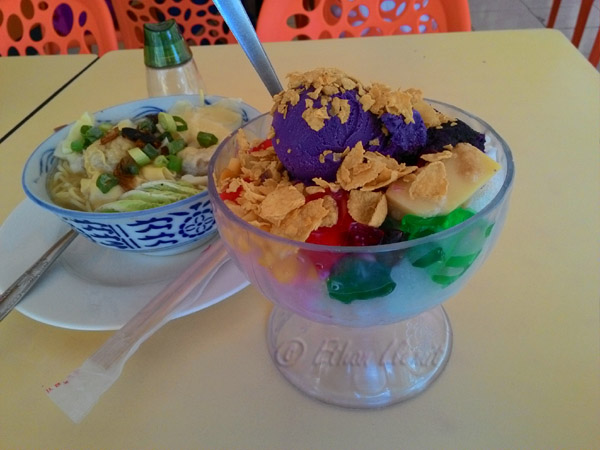 What I love about halo-halo supreme of Ice Castle is that the shaved ice is smooth, unlike in Chowking. The ingredients are varied also, and thus, really satisfying.
I love my halo-halo to remain heterogeneous even if the ice has melted.
The downside? Well, it melts fast. So when you're planning to order it for take-away, you'll end up having drinks (instead of shaved ice dessert) when you get home. Haha.
Price starts at 80 PHP.
Known ingredients: Your chosen ice cream flavor, corn flakes, colourful nata de coco, leche flan
Dimsum Break's Xie Ping halo-halo
I never expected Dimsum Break will be offering halo-halo. I guess this Xie Ping iced dessert is only available during summer time. I'm happy I got to taste it though. Why? For one, it offers great value for the money! At least that's how I see it.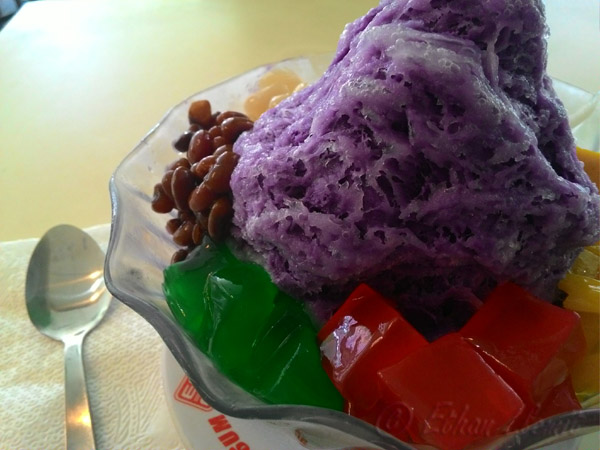 Another thing about Dimsum Break's halo-halo is that they mixed the shaved ice and the ube ice cream. It's a twist to the usual halo-halo, and I must say, I totally love it!
Price: 85 PHP
Known ingredients: real nangka, red beans, white beans, nata de coco (red and green), yellow custard (not leche flan?), ube ice cream mixed with shaved ice
D' Original Razon's halo-halo
The halo-halo of D' Original Razon's is a unique one that greatly deviates from the common halo-halo we see around Cebu. It's the establishment hails from Pampanga and their halo-halo (together with their pancit luglug) is the famous version in that area.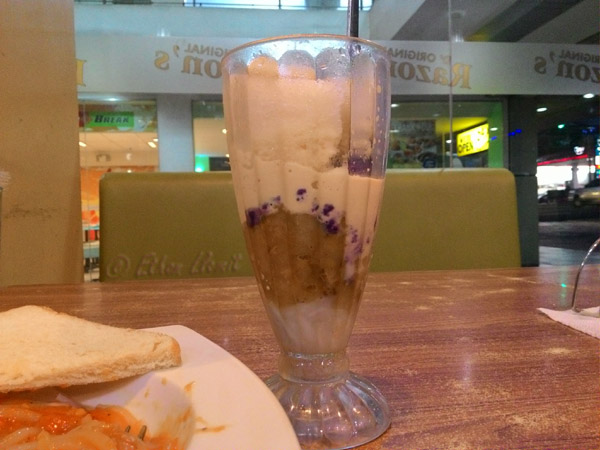 If you're craving for a unique twist on halo-halo, then perhaps this version is for you!
One distinct difference of Razon's halo-halo also is that there's no ube ice cream on it.
It has finely shaved ice and layered with leche flan, sweet macapuno (coconut meat dessert) and mashed banana, which can be a dessert on its own.
Known ingredients: coconut milk and meat, banana dessert, ube jam (for Special Halohalo), custard slices.




Here's a Bonus — Orange Brutus' Ube Shake Halo-Halo
I included Orange Brutus in the list despite not being found along Mango Avenue because I was amazed when I first ordered their halo-halo ube shake. It was only available this summer, I think.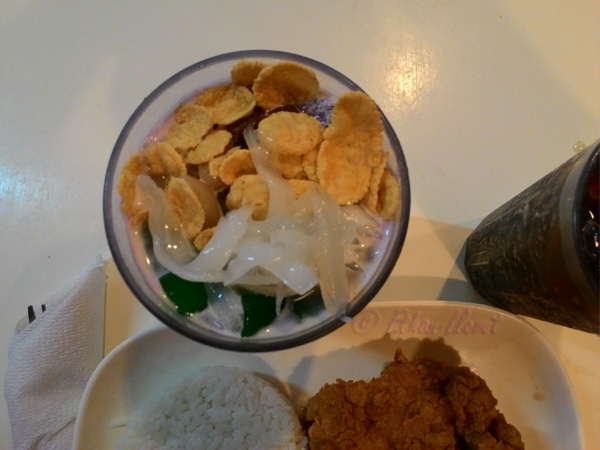 I already explained what ube is.
The dessert is actually Orange Brutus' ordinary ube shake but topped with some local ingredients that define halo-halo.
I love it!
But since it's actually a shake, the halo-halo melts quickly. And then, you'll get confused whether to use a spoon or a straw. Hahaha.
Yet, I love it!
Enough said. Discover this yummy goodness yourself.
Price: 50 PHP
Known Ingredients: Ube shake, shredded coconut meat, green nata de coco, corn flakes, red bean, white bean.
So what's your halo-halo? We love to hear your story and even your addition to the list!
Hurry, before summer is really over.