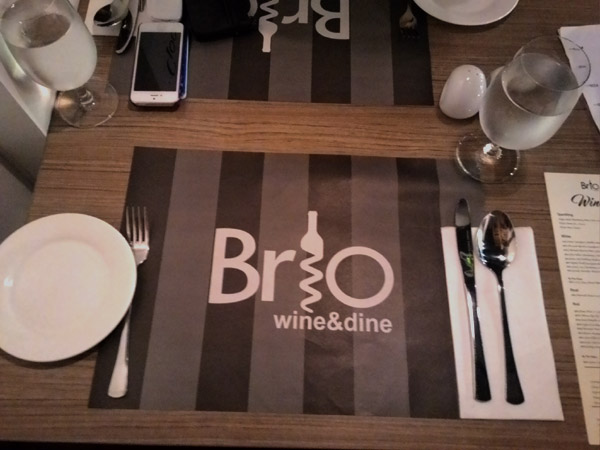 written by Jonathan Florentino
UPDATE: Brio is currently not operating in Cebu, but I decided to retain this blog post for writing portfolio purposes.]
---
After several months, Kat and I finally met up again to have dinner together in Cebu City. This time, we headed over to one of the newest restaurants,
Brio Wine and Dine
. This establishment generally offers great-value Italian and French dishes including pasta and pizza that are made in its open kitchen. The restaurant gives customers a mix of fine dining and casual dining experience.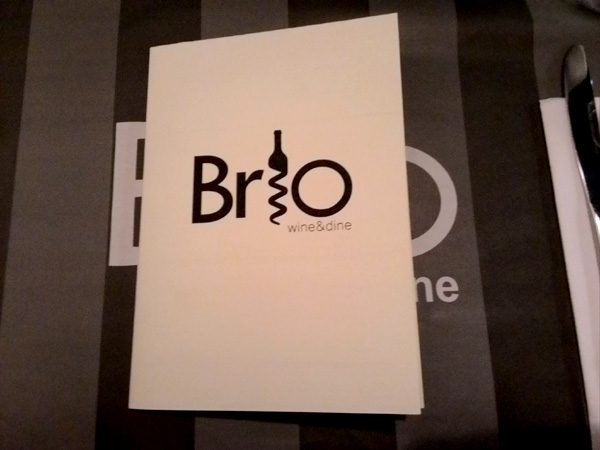 Don't be intimidated with the luxurious appeal of the restaurant's interiors. (Well, I was. That's why it took Kat several weeks to convince me to visit the place. Haha!) The great-value treats and awesome service will definitely let you realise that a five-star dining doesn't have to cost so high.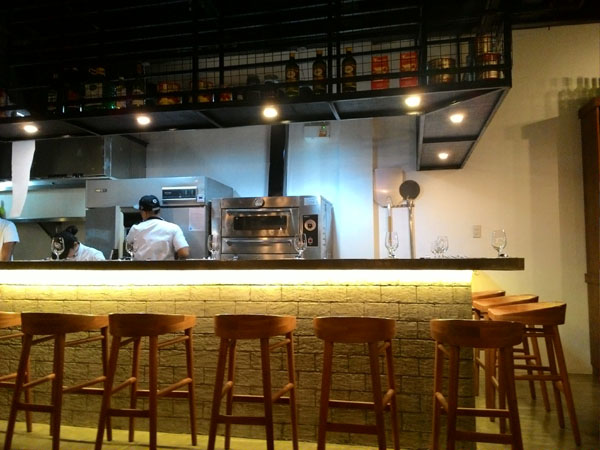 Kat's brother
Aris Solante
owns the restaurant and has partnered with
Chef Rosstan Binuya
, who's experienced in Italian cuisine. Together, they aim to offer diners with a fine dining experience for less.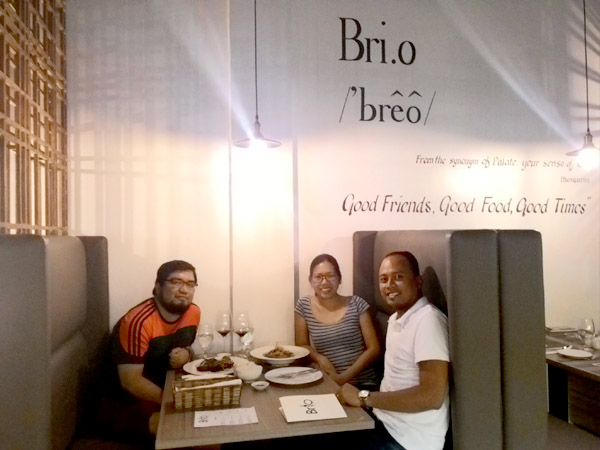 Kat and I initially planned to have dinner in Sugbo Mercado in IT Park, but since there were too many people when we got there, Kat decided to drag me to his brother's restaurant even if it was in the next city.
Brio Wine and Dine is located in Mandaue City, Cebu, specifically in City Time Square Phase 2 (just near Parkmall) where commercial and tourism buildings are sprouting like mushrooms in the last 2 years. Despite being not conveniently available by public mass transit, the area looks lucrative considering the fast-paced commercial and business developments there.
When it comes to the menu, Brio doesn't disappoint. Whether you're there to enjoy a great meal or delight on fine wines or both, you'll definitely be coming back for more. As for me, we had our dinner there and it was totally satisfying and fulfilling.


Here are some of the treats we had when we were there:
[Disclaimer: The content of this blog only reflects the experiences, thoughts and opinions of the author, and should not be in any way serve as your sole basis for the perception you will have of the establishment.]
Starter: Chicken Liver Toast

Jumpstart your appetite with one of Brio's Starter menu, and for us, the Chicken Liver Toast sounds like an exotic choice. If you're not fond of chicken innards, you can opt for Arancini Margherita (Risotto balls), Onion Soup Rings and Buffallo Chicken.
The Chicken Liver Toast have the main ingredient on top of a brioche crouton and comes with a crispy chicken skin and drizzled with grapefruit marmalade. I tend to eat my food in their heterogeneous states but in the case of this Brio Starter, it's best to have each of the ingredients all at the same time to marry the various tastes and texture in your mouth. It's totally a gastronomically delightful experience.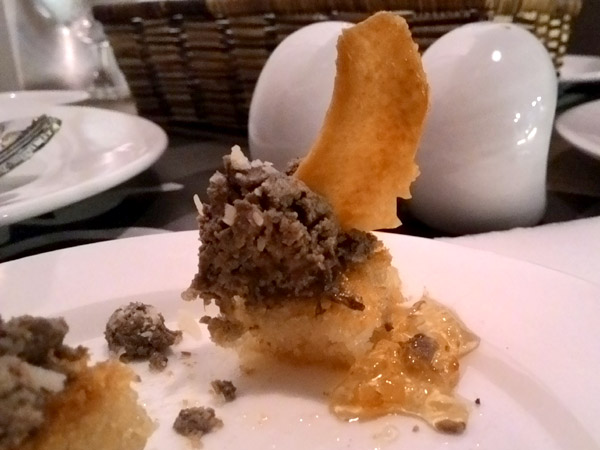 PS: Brio typically employs a course-by-course style of serving meals, so if you're wondering when will your next order arrive on your table, you might want to finish your current dish. Alternatively, you might want to inform the staff that you want to have everything served at the same time. 😀
Pasta: Linguine Prawn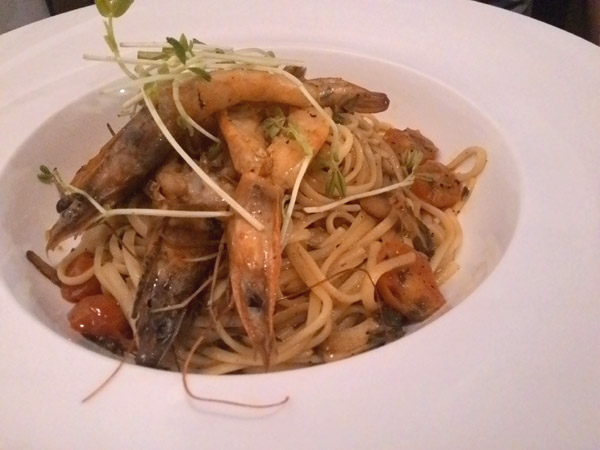 Kat decided to have pasta, as she was still full from her buffet lunch (wow). Linguine Prawn is a King Prawn dish that's so flavourful, thanks to the perfect combination of prawn bisque, white wine, garlic, chilli, olive oil and two of my favourite ingredients: basil and cherry tomatoes.
Special Item: Pan-Seared Ostrich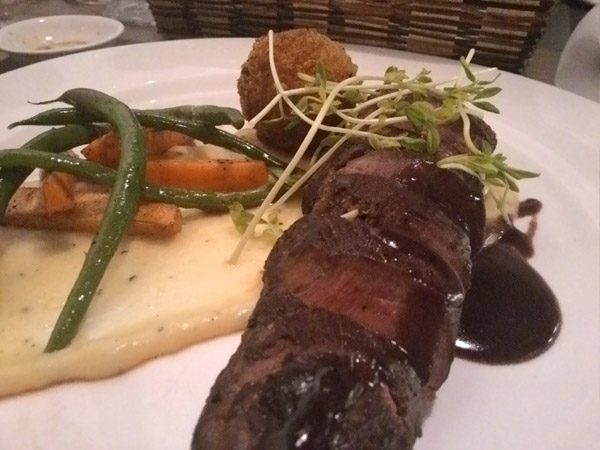 For my main dish, I was supposed to go for Kat's recommendation: Braised Beef, which comes with pancetta mushrooms, mashed potato and grilled onion leaks. But I decided to take one of the restaurant's special menu, thinking that I can take the suggested Main in our next visit.
I opted for the Pan-Seared Ostrich because it's in one of the items in the Specials, which means that I might no see it again the next time I visit (though I do hope it will be popular to the point it becomes one of the restaurant's Main dishes). And honestly, I was curious what ostrich meat tastes like.
The dish uses toploin strip of ostrich meat, cooked and served like a stake. It comes with red wine jus (sauce for the meat), mashed potatoes (or roasted baby potatoes) and other ingredients that complement well with the dish.
Order the Pan-Seared Ostrich or the other special items now before they're gone off the list.
And what does ostrich meat taste like?
GAMY!
/gey-mee/
(chuckle)
Dessert: Crepe Suzette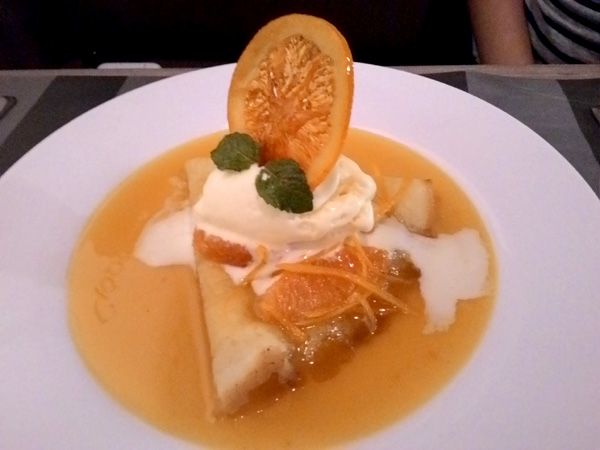 After dining on dishes with exotic tastes and aromatic flavour, it's refreshing to have a dessert that somehow changes the experience for our palate. Crepe Suzette was a perfect choice for us because of its sweet, citrus flavour that masks the peppery and distinct taste of the meat and herbs we just consumed.
Crepe Suzette comes with homemade crepe topped with vanilla ice cream and an interesting candied orange slice, which can be amusing to consume. Orange liqueur sauce brings the dessert to a unifying flavour that completes your dining experience.
Other dessert options include Strawberry Panna Cotta, Chocolate Lava Cake, Chocolate Tart and Crème Brulee.
— o 0 o —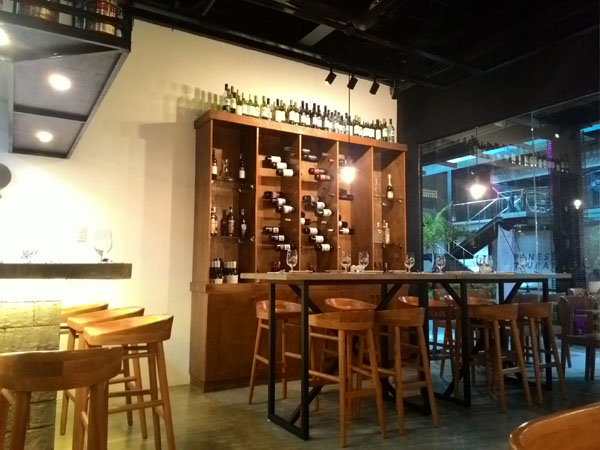 As obvious in the restaurant's name, Brio also offers a wide range of fine wines as well as cocktails and beer. So for late-night bonding with your buddies or when you're craving for wonderful drinks after your Brio dinner, take a pick from the great options available on the wine rack.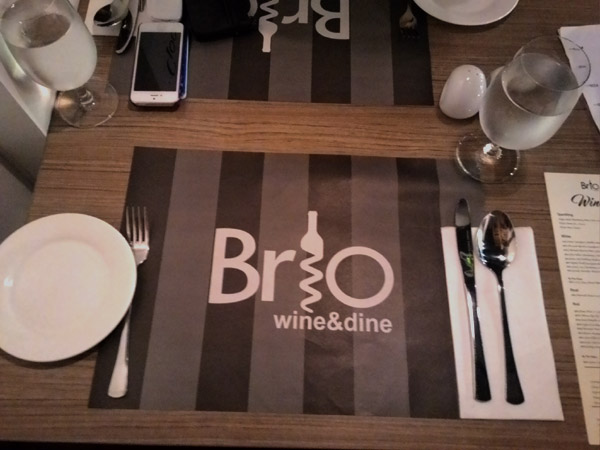 ---
Restaurant Details:
Brio Wine and Dine
Unit B-109 GF City Time Square Phase 2
Mantawe Avenue
Mandaue, Cebu
6014 Philippines
(+63)(32) 316-2423
Contact Page: Brio – Facebook Page
Open Hours: Daily from 6PM-11PM
---